"Fire wants to burn, Water wants to flow, Air wants to rise, Earth wants to bind, Chaos wants to devour." ― Cassandra Clare, The Iron Trial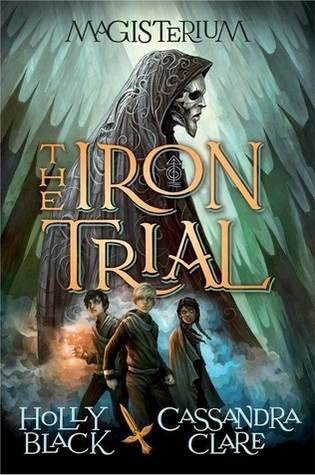 Title: The Iron Trial (Magisterium #1)
Author(s): Holly Black & Cassandra Clare
Publisher: Scholastic Press
Genre: Fantasy, Adventure Issue: Magic, Powers
More: Goodreads
Most kids would do anything to pass the Iron Trial.Not Callum Hunt. He wants to fail.
All his life, Call has been warned by his father to stay away from magic. If he succeeds at the
Iron Trial and is admitted into the Magisterium, he is sure it can only mean bad things for him.
So he tries his best to do his worst – and fails at failing.
Now the Magisterium awaits him. It's a place that's both sensational and sinister, with dark ties to his past and a twisty path to his future.
The Iron Trial is just the beginning, for the biggest test is still to come . . .
I don't usually pick up middle aged books, because I've learned my lesson many many times in the past! Yet, I decided to take a chance and go for this one, because it just seemed really interesting.
The story started off kind of confusing. I was spinning around in a circle of thoughts wondering if I got what the authors were trying to tell me. After a while (a while as in one-fourth in the book now) it started to get really interesting, I started to understand the plot line better and had also started to become more kicked in into the book. I loved all of the characters (yes! even including the antagonist[s]). Callum was always himself throughout the book, he was open and closed off all in one. He also had this thirst for adventure that got him into trouble. It made him go against everything that he was taught and told by his father. He was caring and he was intent on aiming for his expectations and what he was determined to end or reach.
The greatest surprise of all was the truth that was revealed at the end (don't worry I won't tell!). It was probably one of the most shocking things that I had to hear from a book, because I was never expecting it. This book went through twists of having to do something that you never wanted to begin with. It explained a whole new world filled with magic, adventures, and unfinished stories. Another group of misfits that I just can't help but love.
I thought the plot was very well thought out and Cassandra Clare and Holly Black did an amazing job to create another series of magical beings whose exciting story and fierce personality that can make a reader fall in love with it.
The Iron Trial is a magical book filled with twists, but with a hint of dark air in it.
I recommend this book greatly to those of you who take chances.
Rating: 

_________________________________________________________________________
-Music Companions-
1] Little Lion Man – Mumford & Sons
2] Words As Weapons – Birdy
3] Leave You in the Dark – State Champs
4] Talking Dreams – Echosmith
5] Hold Back The River – James Bay

Thoughts? Opinions? Share and Comment below!