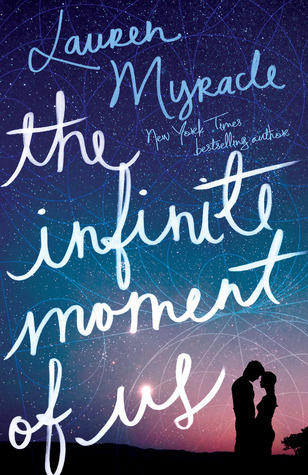 Title: The Infinite Moment of Us
Author: Lauren Myracle
Publisher: Amulet Books
Genre: Young Adult, Contemporary, Romance
Rating: 2.5 out of 5
More: Goodreads | Amazon | Barnes & Noble
For as long as she can remember, Wren Gray's goal has been to please her parents. But as high school graduation nears, so does an uncomfortable realization: Pleasing her parents once overlapped with pleasing herself, but now… not so much. Wren needs to honor her own desires, but how can she if she doesn't even know what they are?
Charlie Parker, on the other hand, is painfully aware of his heart's desire. A gentle boy with a troubled past, Charlie has loved Wren since the day he first saw her. But a girl like Wren would never fall for a guy like Charlie—at least not the sort of guy Charlie believes himself to be.
And yet certain things are written in the stars. And in the summer after high school, Wren and Charlie's souls will collide. But souls are complicated, as are the bodies that house them…
Sexy, romantic, and oh-so-true to life, this is an unforgettable look at first love from one of young adult fiction's greatest writers.
I assumed that my gut feeling would be correct most of the time. I assumed that motivation would lead to some of the best decisions of my life. I assumed a lot of things when I first added The Infinite Moment of Us to my stack of books that I carried around Barnes & Noble. I felt like I was reading a piece of cardboard. Yes, there was more than one occasion where I felt myself perking up and momentarily enjoying what I was reading, but when I though outside of the box for a few more assiduous seconds, I realized that what I had just read was the story of a girl who never had the time to have her own desires and beliefs. Who was constantly controlled by her parents and was not given the air to breath in.I read a story about a guy who believed in love at first sight-and who knew in his mind what he wanted, but just couldn't find himself to do it. I was dragged through the story of Charlie-who with or without his messed up relationship with his "friend" Starrla-seemed like an okay guy.
The characters were okay, in my mind they're the people who can be tolerated, but with time you could learn to care for. Wren Grey, finally discovered what she has always truly wanted, but could never strive to turn desire into reality. Charlie Parker, hormone controlled, boy, but with a great brother. Enough really said.
The romance wasn't my favorite, not by a long shot, but it wasn't bad either. I actually kind of enjoyed it. It was mushy, yes, maybe a little fast and unrealistic, but give or take a few, it was fun to read and experience. The cover will always be one of the best things that I have ever seen. I can't forget bringing this book in my bag and reading it at the buffet (ever).
2.5 out of 5

Thoughts? Share and Comment below!