"Maybe I felt something because I'm always looking for feelings. Without them, I don't know how to act." ― Erin Bowman, Taken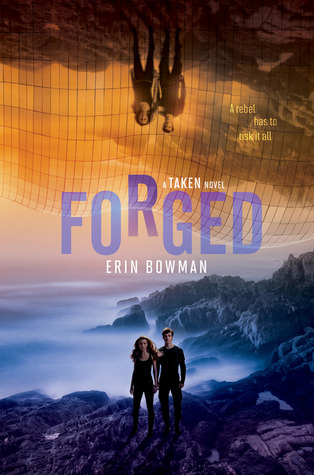 Title: Forged (Taken #3)
Author: Erin Bowman
Publisher: HarperTeen
Rating: 5 out of 5
Genre: Young Adult, Science Fiction, Dystopia, Romance
More: Goodreads | Barnes&Noble | Author Site
The time has come to make a stand.Gray Weathersby and his group of rebels are determined to bring down the Franconian Order. But they may be too late. The Order is closer than ever to its ultimate goal—building an unstoppable army—and every generation of Forgeries is more sophisticated, harder to detect, and deadlier than the one before.
Now the rebels have joined forces with new allies, the Expats. But when even the most familiar faces can't be trusted, Gray will have to tread carefully if he wants to succeed—or survive.
1) It was seriously action packed. I always appreciate a book with the perfect amount of action in it. I have enjoyed Taken and Frozen, but Forged takes it to another level.
2) Bree. She's this tough girl that is emotionally, mentally, and physically strong. She is my absolute favorite character, because I often find myself looking up to her as a person. This ball of excitement always builds whenever I read about her. She is now my new idol, and no, I will never be ashamed to say that.
3) Forged Copies. I thought that the idea of forged copies was really interesting idea to build off of. It was different and exotic in a way that made me want to read more.
4) The plot. I never felt myself getting uninterested for even a second. Each and every page was as exciting and fascinating as the last. Turning pages has always been a fun things to do, but turning the pages of Forged was much funner.
5) The Romance. I can not express how much this bullet point leaves me wanting more. I will not go into much detail just incase it's not what you personally wanted (we all know how devastating that is). I am internally screaming over the fact that Forged fan fiction does not exist and all I simply have is my imagination (I am pouting, but you can't see it).
Things I did not like about Forged:
1) When Bree and Gray would reply with "same" to each other. I could imagine the people around me making comments and replying with "saaaaaame". It just wasn't the best mind picture that was made and not the best word that was used.
2) Emma. Well, I don't dislike her. I just don't really like her (wait. that's the same thing as disliking her). I was cringing at her character only, because she often ran away from trouble and got away, because of lying and maybe deceit. I can't find myself to fully appreciate her for being a doctor when my brain is telling me to not really care about her.
*SPOILER* I can sit here all day and complain about her, but I think the main reason my subcontious completely refused to care about her being is when she expected Gray to pick her over Blaine (his own brother). I mean, I know that it must hurt, but please accept the fact that this is his family. *SPOILER DONE*
3) The choice of color for the cover. I don't really know what to say about this point. I mean, I JUST DON'T LIKE IT, not as much as I loved the other covers and their color palettes.
---
All In All:
This was a great way to end a trilogy and I really miss it now. The characters and the plot have taken a part of me that I can not give back and I thank Erin Bowman for another wonderful book!
One Request: More please!
Comments? Opinions? Share all your thoughts down below!