Top Ten Tuesday is hosted by The Broke and the Bookish. They come up with a new topic for every week! I never really have the heart to place books in a certain order, so for this post, I will not include any numbers what-so-ever.
More: Also Posted on We the Trilogy
---

Title: Christmas in Camelot (Magic Tree House #29) Author: Mary Pope Osborne
Well, I guess this was my major first push into the world of books. I was in first grade when my teacher would read this series to us. In fact, I loved the adventure and fantasy so much that I even bought the whole series myself! 😛
---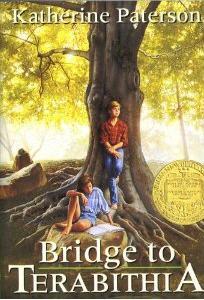 Title: Bridge to Terabithia Author: Katherine Paterson
This was one of those books that I had to read together as a class. It was one of the most peculiar books I have ever read. It was basically my first sad book. It was an amazing take on the story of friendship and loss. btw if you didn't know yet, Josh Hutcherson starred in the film version (when he was still mini.)
---

Title: My Sister the Vampire Switched Author: Sienna Mercer
When I was a small kid, I didn't really care about the well bring of a book and well–practically destroyed my copy of My Sister the Vampire:Switched. I really thought this book was fun and non-boring (if that's a word). It was a humorous take on paranormal and I loved it!
---

Title: The Tale of Despereaux Author: Kate Dicamillo
So on one of those trips to the library with your class, I stumbled upon this book. And being the child that I was, I checked it out, because I thought the cover looked cute enough. I ended up enjoying the book so much that I did my book report project on it.
---

Title: The Cricket in Times Square Author: George Selden
Another wonderful, amazing book. Two words: Library Book. No other description needed.
---

Title: From the Mixed-Up Files of Mrs. Basil E. Frankweiler Author: e.l. koningsburg
This is one of the only historical fiction books that actually got to me. It was well written and well thought out in the process.
---

Title: Island of the Blue Dolphins Author: Scott O'Dell
I very much did not know what to expect when I first saw this book. The cover wasn't all that interesting, but in the end, it became one of my favorite books at that time age.
---

Title: The Witches Author: Roald Dahl
NOW! Here was my second take on witches. This may be one of the first books that got me to be in love with paranormal and magic.
---

Title: The Witch who was Afraid of Witches Author: Alice Low
This book was originally one of my bedtime stories. I was a really interested kid when I heard this story being told. I was also really hooked on the spells 😀
---

Title: Brown Bear, Brown Bear, What Do You See? Author: Bill Martin/Eric Carle
I was probably in kinder garden when I read this book. Back then, I wasn't really a reader (shock huh?). This was a really good book back then!
What were your favorite childhood books? Share and Comment below!