Title: Find Me
Author: Romily Bernard
Publisher: HarperTeen
Genre: Mystery, Action, Young Adult Issue: Death, Diary, Hacking
More: Goodreads | Amazon | Author Site
"Too bad I don't believe in heroes, super or otherwise." – Romily Bernard, Find Me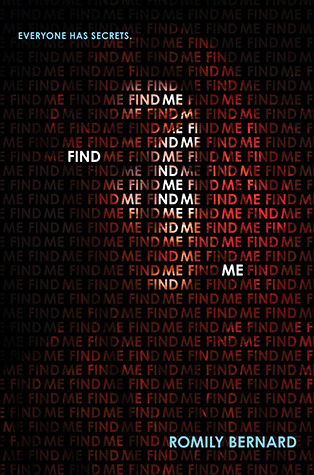 Synopsis
"Find Me."
These are the words written on Tessa Waye's diary. The diary that ends up with Wick Tate. But Tessa's just been found . . . dead.
Wick has the right computer-hacking skills for the job, but little interest in this perverse game of hide-and-seek. Until her sister Lily is the next target.
Then Griff, trailer-park boy next door and fellow hacker, shows up, intent on helping Wick. Is a happy ending possible with the threat of Wick's deadbeat dad returning, the detective hunting him sniffing around Wick instead, and a killer taunting her at every step?
Foster child. Daughter of a felon. Loner hacker girl. Wick has a bad attitude and sarcasm to spare.
But she's going to find this killer no matter what.
Because it just got personal.
Even in the past, I never hid the fact that I respect tough girls. I agree with their will and their power to fight in the darkest situations. Knowing this, I really enjoyed Wick. She's a crazy hacker with mad skills and pure love for her sister. I liked her attitude when dealing with situations. I had no trouble connecting with her from the start of the book. She is definitely someone I would like to meet in real life!
Tessa on the other hand, was harder for me to connect with. Don't get me wrong, Tessa's a good person who just got lost in the wrong situation, but I didn't agree with her decisions. While I was reading smalls parts from her diary entries, I saw someone that I would not see myself hanging around. I wish she never actually jumped.
Griff. Where do I begin? I LOVE Griff just as much as I love Wick. He's sly and slick and just pure perfection–though, no one's perfect ;). Even though Wick thought he was annoying, I thought it was really cute that he was trying to help her. Griff and Wick complete each other. Plus, they're one of the couples I shipped really hard–but then again, there is a lot of couples that I've shipped really hard.
The other characters such as Lily, and their step parents weren't exactly my favorite people in the world. Yeah, they were okay, they were there, but I was not expecting Wick's step father to actually have a huge role to play in this story.
-Events-
I really liked the plot of the story. It was interesting and read-worthy. I enjoyed the beginning of the book and the way the events flew through the book. Though, I honestly have to say that, there were come parts in the book that was boring. The only thing keeping me reading at those points was the thought of something "big" happening. I thought that there could have been an improvement of event details, but other than that, it was a wonderful plot.
I was not actually expecting for Tessa's sister to actually come clean about giving Wick the diary. I really thought that this was far from what I thought would happen. Now, this is only my opinion, but I do not really enjoy when an author adds in an event when the main character logs onto Facebook and scrolls though their page. I guess I'm just so used to reading books that didn't involve social media directly, that It was kind of a turn off for me. I mean come on! When you know their is a pedophile out their that wants to capture your sister, are you going to log onto Facebook and converse with them. Wick and the suspect were conversing back and forth through Facebook and I didn't think this was ideal.
When Wick and Griff finally found out who was the real man handler (lol), there was this huge action scene involving fighting. Now this was the "big" thing I was waiting for, the breakthrough. Then, I got annoyed, because he f*cking got away! What the hell! He was supposed to be dead.
Then at the end, it introduced a new plot and story frame. This one no longer contained the diary or anything else, so I will then  see how I will like the sequel.
Though at the end of the day, it was an enjoyable story, and I will be reading the sequel Remember Me in the future!
---
-Music Companions-
1]  The Pheonix – Fall Out Boy
2]  Come Together – Echosmith
3]  Rat a Tat – Fall Out Boy
4]  Ex's & Oh's – Elle King
5]  Intro – The xx



What books did you read this week? Share and Comment below!