Title: All the Bright Places
Author: Jennifer Niven
Publisher:
Genre: Young Adult, Contemporary Issue: The meaning of life
More: Goodreads | Amazon | Barnes&Noble | Author Site

"It's my experience that people are a lot more sympathetic if they can see you hurting, and for the millionth time in my life I wish for measles or smallpox or some other easily understood disease just to make it easier on me and also on them." – All the Bright Places, Jennifer Niven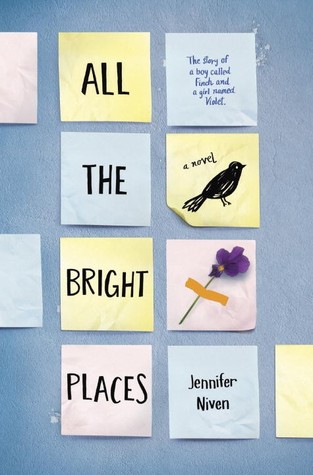 Synopsis
Theodore Finch is fascinated by death, and he constantly thinks of ways he might kill himself. But each time, something good, no matter how small, stops him.
Violet Markey lives for the future, counting the days until graduation, when she can escape her Indiana town and her aching grief in the wake of her sister's recent death.
When Finch and Violet meet on the ledge of the bell tower at school, it's unclear who saves whom. And when they pair up on a project to discover the "natural wonders" of their state, both Finch and Violet make more important discoveries: It's only with Violet that Finch can be himself—a weird, funny, live-out-loud guy who's not such a freak after all. And it's only with Finch that Violet can forget to count away the days and start living them. But as Violet's world grows, Finch's begins to shrink.
Okay first of all, when I read the synopsis and saw the words The Fault in our Stars & Eleanor & Park, I had a feeling that-
1) This would be a sad/depressing kind of plot
2) Someone would die in the end
Anyway, it did stay true to what it said. If any of you guys are huge fans of The Fault in Our Stars and Eleanor & Park, the this would be the perfect book for you to read. I know many people say that they can't relate to Finch as much as Violet. I have to say, that I relate less to Violet than Finch. Honestly, I felt that it was totally normal for a guy like Finch–who came from a messed up family and a sad life–to worry about the labels of society. He does like to be himself though, and that I respect.
I had trouble connecting with Violet at times. Even though she had the same interest of writing and reading like me, she was just one of those girls that saw all of the bests in life. From popularity, to hot guys, to a popular blog, that was basically her life. It was not until something bad happened to her that changed the way she looked at the world.
And in the end, I can say that this was a sad, touching story about new beginnings and the problematic issue of suicide. It was filled with inspiring quotes and lines from the author herself and other authors in the past.
If you are the kind of person that loves to read inspiring, unique stories, then this is for you. I enjoyed reading this book and spending my time taking in the events. It was not until this book that comes the realization that this is the way some people feel. Maybe we don't know how they feel by a long shot, but this book brings awareness to the world.
It was a book about new starts and new beginning, even if your first chance didn't work out. It's just one of those books that have such a strong mood around it.
Of course, there were some times, where the story got a little boring, but it was only around the edges. Sometime the parents, or some other characters made me want to just walk in (which i'd love to do) and bitch slap them really hard. I felt that the characters in the book were people that many wouldn't want to be around (but that's just me).
Overall, I really enjoyed this book, even though it made me feel sad (but in a good way–).
Btw } sorry for the crappy review. I swear that in due time, I will make way better and longer reviews. Though, for now, I'm still trying to figure out my formatting.
<a href="http://www.bloglovin.com/blog/13785827/?claim=updaycvbhtz">Follow my blog with Bloglovin</a>
---
-Music Companions-
1]  Not About Angels – Birdie
2]  Lonely Girl – Tonight Alive
3]  Miles Away – Memphis Mayfire
4]  Elastic Heart – Sia
5]  Moments – Tove Lo
So what did you read this week? Share and Comment below!