I am aware that I am a few days late. Time is of the essence (woah) and I am desperately in need of some. Anyway, here we go:
My To Be Read List for March 2015 includes:
-1-
Title: Playlist for the Dead
Author: Michelle Falkoff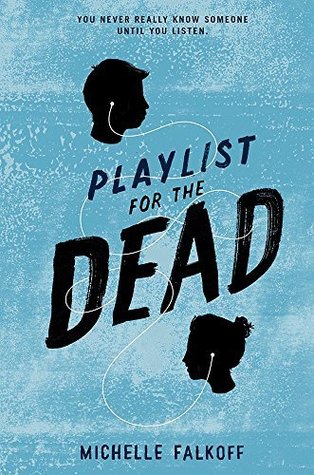 Synopsis
A teenage boy tries to understand his best friend's suicide by listening to the playlist of songs he left behind in this smart, voice-driven debut novel.
Here's what Sam knows: There was a party. There was a fight. The next morning, his best friend, Hayden, was dead. And all he left Sam was a playlist of songs, and a suicide note: For Sam—listen and you'll understand.
As he listens to song after song, Sam tries to face up to what happened the night Hayden killed himself. But it's only by taking out his earbuds and opening his eyes to the people around him that he will finally be able to piece together his best friend's story. And maybe have a chance to change his own.
Part mystery, part love story, and part coming-of-age tale in the vein of Stephen Chbosky's The Perks of Being a Wallflower and Tim Tharp's The Spectacular Now, Playlist for the Dead is an honest and gut-wrenching first novel about loss, rage, what it feels like to outgrow a friendship that's always defined you—and the struggle to redefine yourself. But above all, it's about finding hope when hope seems like the hardest thing to find.
---
-2-
Title: When
Author: Victoria Laurie
Synopsis
Maddie Fynn is a shy high school junior, cursed with an eerie intuitive ability: she sees a series of unique digits hovering above the foreheads of each person she encounters. Her earliest memories are marked by these numbers, but it takes her father's premature death for Maddie and her family to realize that these mysterious digits are actually death dates, and just like birthdays, everyone has one.
Forced by her alcoholic mother to use her ability to make extra money, Maddie identifies the quickly approaching death date of one client's young son, but because her ability only allows her to see the when and not the how, she's unable to offer any more insight. When the boy goes missing on that exact date, law enforcement turns to Maddie.
Soon, Maddie is entangled in a homicide investigation, and more young people disappear and are later found murdered. A suspect for the investigation, a target for the murderer, and attracting the attentions of a mysterious young admirer who may be connected to it all, Maddie's whole existence is about to be turned upside down. Can she right things before it's too late?
---
-3-
Title: Top Ten Clues Your Clueless
Author: Liz Czukas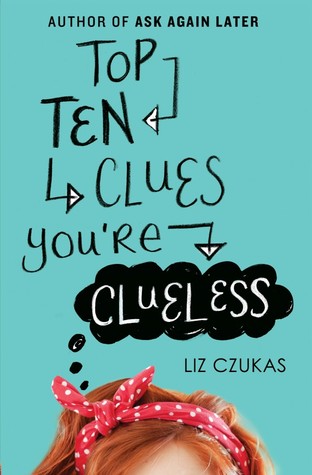 Synopsis
Top Five Things That Are Ruining Chloe's Day
5) Working the 6:30 a.m. shift at GoodFoods Market
4) Crashing a cart into a customer's car right in front of her snarky coworker Sammi
3) Trying to rock the "drowned rat" look after being caught in a snowstorm
2) Making zero progress with her crush, Tyson (see #3)
1) Being accused—along with her fellow teenage employees—of stealing upwards of $10,000
Chloe would rather be anywhere than locked in work jail (aka the break room) with five of her coworkers . . . even if one of them is Tyson. But if they can band together to clear their names, what looks like a total disaster might just make Chloe's list of Top Ten Best Moments.
---
-4-
Title: The Infinite Moment of Us
Author: Lauren Myracle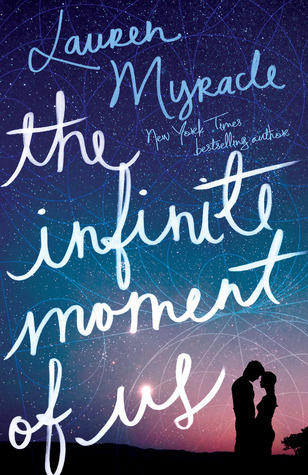 Synopsis
For as long as she can remember, Wren Gray's goal has been to please her parents. But as high school graduation nears, so does an uncomfortable realization: Pleasing her parents once overlapped with pleasing herself, but now… not so much. Wren needs to honor her own desires, but how can she if she doesn't even know what they are?
Charlie Parker, on the other hand, is painfully aware of his heart's desire. A gentle boy with a troubled past, Charlie has loved Wren since the day he first saw her. But a girl like Wren would never fall for a guy like Charlie—at least not the sort of guy Charlie believes himself to be.
And yet certain things are written in the stars. And in the summer after high school, Wren and Charlie's souls will collide. But souls are complicated, as are the bodies that house them…
Sexy, romantic, and oh-so-true to life, this is an unforgettable look at first love from one of young adult fiction's greatest writers.
---
-5- 
Title: Breaking the Rules
Author: Katie McGarry
Synopsis
A summer road trip changes everything in this unforgettable new tale from acclaimed author Katie McGarry
For new high school graduate Echo Emerson, a summer road trip out west with her boyfriend means getting away and forgetting what makes her so… different. It means seeing cool sights while selling her art at galleries along the way. And most of all, it means almost three months alone with Noah Hutchins, the hot, smart, soul-battered guy who's never judged her. Echo and Noah share everything — except the one thing Echo's just not ready for.
But when the source of Echo's constant nightmares comes back into her life, she has to make some tough decisions about what she really wants — even as foster kid Noah's search for his last remaining relatives forces them both to confront some serious truths about life, love, and themselves.
Now, with one week left before college orientation, jobs and real life, Echo must decide if Noah's more than the bad-boy fling everyone warned her he'd be. And the last leg of an amazing road trip will turn… seriously epic.

What books do you have on your TBR list for March 2015? Share and Comment below!