Title: Winterspell
Author: Claire Legrand
Publisher: Simon & Schuster Books for Young Readers
Genre: Young Adult, Fantasy, Issue: Magical Kingdom, Curse
More: Goodreads | Amazon | Author Site
"You cannot shy away from yourself. Look the world in the eye, and it can do nothing to  hurt you." – Winterspell, Claire Legrand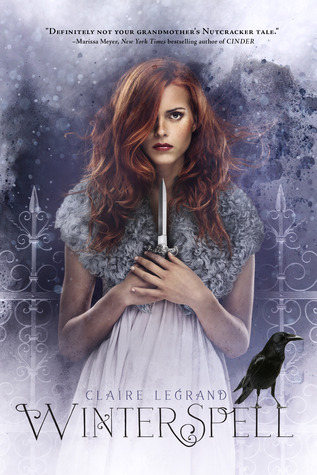 Synopsis
The clock chimes midnight, a curse breaks, and a girl meets a prince . . . but what follows is not all sweetness and sugarplums.
New York City, 1899. Clara Stole, the mayor's ever-proper daughter, leads a double life. Since her mother's murder, she has secretly trained in self-defense with the mysterious Drosselmeyer.
Then, on Christmas Eve, disaster strikes.
Her home is destroyed, her father abducted–by beings distinctly not human. To find him, Clara journeys to the war-ravaged land of Cane. Her only companion is the dethroned prince Nicholas, bound by a wicked curse. If they're to survive, Clara has no choice but to trust him, but his haunted eyes burn with secrets–and a need she can't define. With the dangerous, seductive faery queen Anise hunting them, Clara soon realizes she won't leave Cane unscathed–if she leaves at all.
Inspired by The Nutcracker, Winterspell is a dark, timeless fairy tale about love and war, longing and loneliness, and a girl who must learn to live without fear.
Winterspell was an amazing new take on the classic story of The Nutcracker. The innocence of the prior was taken and made into an adventure filled phenomenon. Having being a fan of the classic tale, I fell in love with the plot as soon as I read the blurb.
It was enchanting and sophisticated with the way it was brought on. When Prince Nicholas finally broke free of the curse that made him into a statue, his personality was immediately questioning. He was a blank canvas and his thoughts were unpredictable. He started off as a hateful person who could not forgive the faeries for what they have done and what he was taught to do. His intentions at the beginning was to strictly use Clara for her power to defeat the faeries. His change in character from the beginning to the end was, because of his love for Clara.
The ending was perfect. It may not have gotten Clara and Nicholas together sooner, but they did have their perfect life together in due time. More time was lost for Nicholas, because time was faster in Cane, but their age difference never mattered.
This story was filled with secrets just waiting to be known and delved through. The magic was powerful and the love and breathlessness made me want more of the story.