Title: Asylum
Author: Madeleine Roux
Publisher: HarperCollins
Genre: Young Adult, Horror, Paranormal, Issue: Haunting, Pasts, Killer
More: Goodreads | Amazon | Author Site
"It was a house for those who could not take care of themselves, for those who heard voices, who had strange thoughts and did strange things. The house was meant to keep them in. Once they came, they never left." – Madeleine Roux, Asylum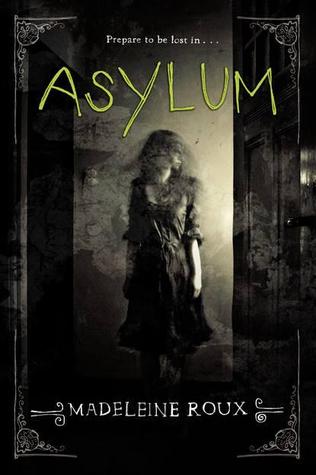 Synopsis: 
For sixteen-year-old Dan Crawford, New Hampshire College Prep is more than a summer program—it's a lifeline. An outcast at his high school, Dan is excited to finally make some friends in his last summer before college. But when he arrives at the program, Dan learns that his dorm for the summer used to be a sanatorium, more commonly known as an asylum. And not just any asylum—a last resort for the criminally insane.
As Dan and his new friends, Abby and Jordan, explore the hidden recesses of their creepy summer home, they soon discover it's no coincidence that the three of them ended up here. Because the asylum holds the key to a terrifying past. And there are some secrets that refuse to stay buried.
Featuring found photos of unsettling history and real abandoned asylums and filled with chilling mystery and page-turning suspense, Madeleine Roux's teen debut, Asylum, is a horror story that treads the line between genius and insanity.

This book was one of the few horror/mystery novels that kept me on edge the whole time. I was constantly looking behind me every other moment looking for the ghost that behind me that was waiting to gut me. Do you ever just *ugh* have those moments when you just have goosebumps all over your arm? Yeah, well I just had a major one right there. This story was chilling and mysterious and I absolute adored it! It gave me shivers and chills just looking at the front cover and first page! This was an awesome book and I don't regret the two days I spent reading it!
Dan was clearly the most critical thinker in their group of three. He was sly, observant, and sharp and he caught on to the mysteries before any of the others did. Throughout the book, Dan has always had this air of maturity following him. To be clear, he was a middle aged man in an almost college student's body (figuratively, not literally). When he first entered the old warden's office–who of course had the same name as him–he was the first to notice the creepiness that was ensuing in their visit. Abby on the other hand is friendly, quirky, and talented and I am anything but that. She was the exact opposite of me, but she was clearly the best person that Dan has ever dated (if he ever dated before). Though, lets be honest here, for a few moments I was wondering if she had lost it. When she first saw the old picture of the little girl who had empty eyes and a scar from a lobotomy, she became dare I say, obsess with the picture and could not put it down without staring it down. This made me wonder if Abby would become one of the main factors that would make the story. It wasn't until the big reveal that that sad little girl was actually her aunt and that's why she felt a strong connection to the picture.
The additions of other levels in the office room was a flowing add on and didn't make me feel as if the author was just dragging the story on. The secret passages, strange experiments, and creepy killings were just part of the secrets that hid behind the dorm's walls. The pictures, the pictures, how could I even describe this in words? The pictures were the best part of the book. After reading a passage that made me look around for paranormal occurrences, the next page would show a picture depicting the object or area that it was talking about. This item just played a big part in the story.
Now, the ending was a whole different story to tell. After all of the escalation in the scene before the last it was just a little disappointing that it ended the way it did. I am not saying that it was a bad ending, no it was far from bad, but I just think that it could have had a more stronger ending than the one it was given. It went from action, action, action, horror, mystery, action, and then BOOM! All the exciting spine chilling events suddenly disappeared and it just ended. It was just too much of a free comfortable ending for my liking. Even though it had ended the way it did, the author still managed to add a bit of mystery that had me thinking of what was going to happen next. I just have a strong feeling that those keys are going to play a big role in the next book (obviously).
All in all, this was an amazing read and I am looking forward to reading the sequel Sanctum in the near future!
– { thank you }